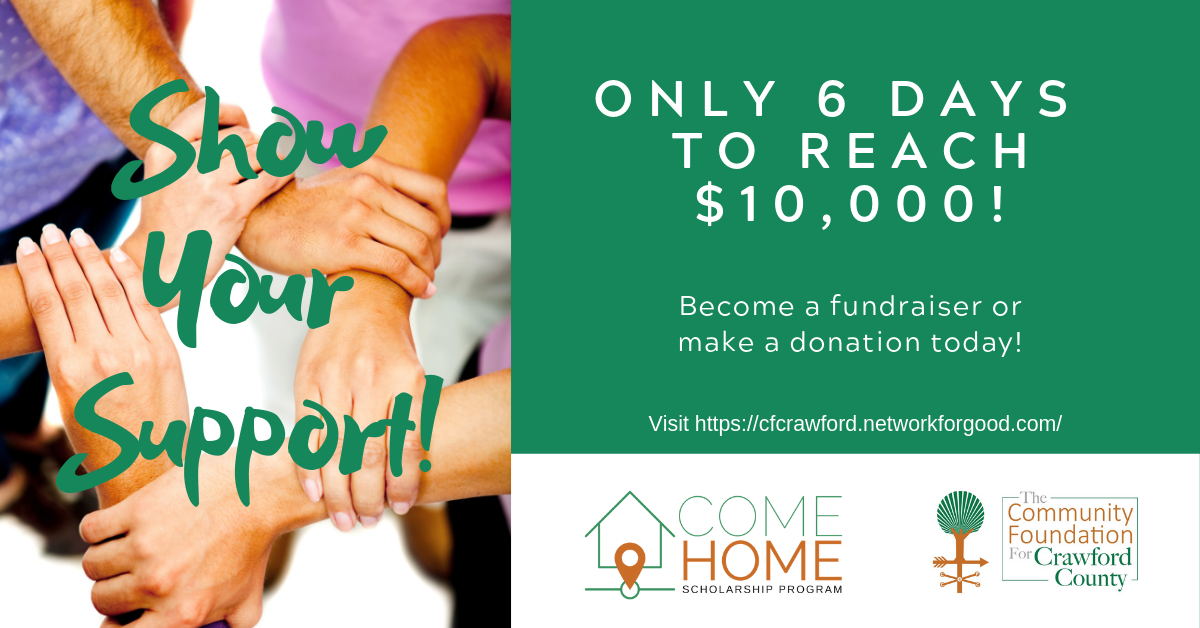 Show your support to the Come Home Scholarship Program! Join the Foundation in meeting their $10,000 goal by May 21, 2019.
If you haven't heard about this innovative program, you are missing out!
The Foundation launched the Come Home Scholarship Program in 2017 - becoming the 1st in Ohio and 4th in the nation to implement this concept. Traditional scholarships are given to students at the beginning or "front-end" of their educational journey, encouraging them to move away without any guarantee that they will ever return – or even complete their degree. According to an article by the Washington Post, "Fewer than 40 percent of students enrolling for the first time at a four-year college graduate in four years. Add in community college students, and more than half of students who start college drop out within six years." This is a staggering dropout rate!
Uniquely, the Come Home Scholarship awards are paid on the "back-end" of higher education, awarding money to former Crawford Countians to pay on student debt after they have completed a certificate program or college degree. In return, these recipients must commit to move back home to live and work in Crawford County.
"This kind of scholarship is a great return on investment," stated Lisa Workman, the Foundation's President. "Not only are we helping reduce the burden of college debt for the recipient, our county also reaps amazing benefits. The county's population, level of educational attainment, and tax base all increase which boosts our economy. It's a win-win for all parties."
The Foundation is asking their supporters to rally their friends, family, and networks in support of this program. Become a fundraiser for The Community Foundation for Crawford County, and help them entice our best and brightest back to Crawford County and make a positive change.
Starting a fundraiser is EASY to do, and it's FUN! Go to https://cfcrawford.networkforgood.com and click on the "Become a Fundraiser" button to start the 5 easy steps. They give you all the tools you'll need. By sharing your fundraising page with your network via social media and messaging, you can easily raise money for the Come Home Scholarship Program!
Should you choose not to become a fundraiser, please consider making a donation at https://cfcrawford.networkforgood.com. No matter how big or small, every donation makes a difference.
To see more details about the Come Home Scholarship Program, please visit our website at https://www.cfcrawford.org/come-home-scholarship.