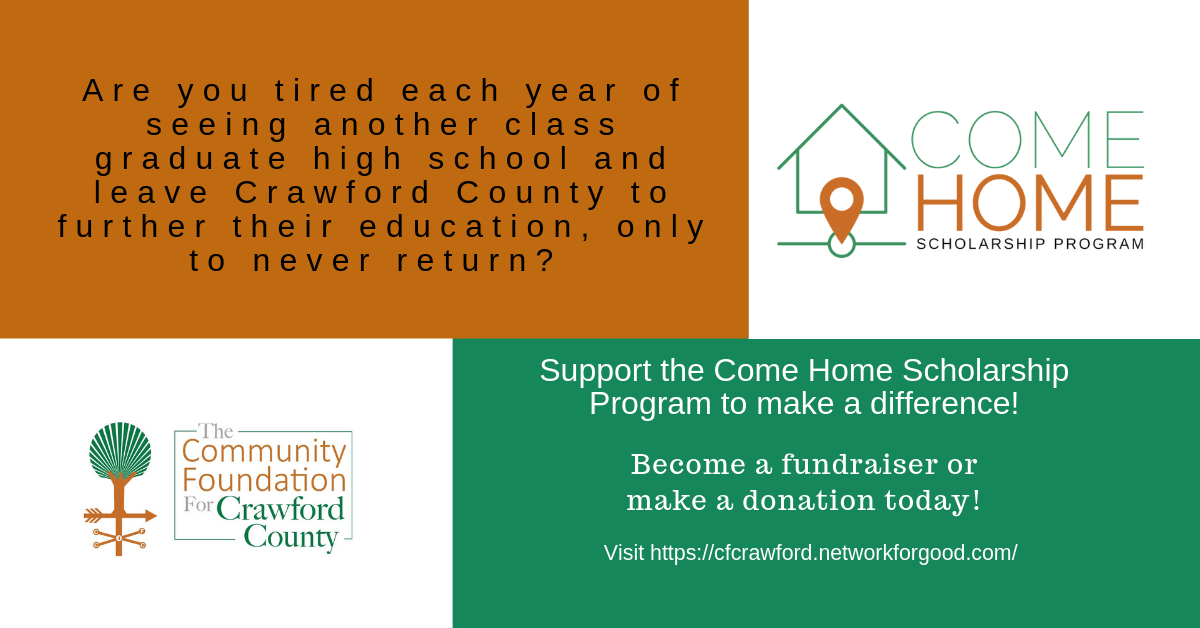 Are you tired each year of seeing another class graduate high school and leave Crawford County to further their education, only to never return? Do you want to help reverse this brain drain?
Join the Foundation and support their newest initiative: the Come Home Scholarship Program. When they began this program in 2017, they became the 1st in Ohio and 4th in the nation to implement this innovative concept. They hope to entice former Crawford Countians who have completed a certificate program or college degree in the last 7 years to apply for a Come Home Scholarship of up to $10,000 towards student debt in return for coming back to Crawford County to live and work.
What are the benefits of a program like thisfor our county? Justin McMullen, Chair of the Foundation's Development Committee, explained. "We add to our declining population. We increase our level of educational attainment. We can boost our economy and increase our tax base! We help with college debt, which at $1.5 trillion nationally is a crisis for those burdened with it. In the last census, our county saw a slight increase in the 20-29 age group - let's keep up the momentum!"
Lisa Workman, Foundation President, added, "Cooper's Mill has graciously kicked off these fundraising efforts with a celebration luncheon that raised $275.00. Bob Evans will be donating 15% of proceeds on June 10 to add to our efforts. And from now through May 21 we are asking you to rally your friends, family, and networks in support of this program. By becoming a fundraiser for The Community Foundation for Crawford County, you can help us entice our best and brightest back to Crawford County and make a positive change!"
Starting a fundraiser is EASY to do, and it's FUN! Just open the link below and click on the "Become a Fundraiser" button to start the 5 easy steps. All the tools needed are provided. By sharing your fundraising page with your network via social media and messaging, anyone can easily raise money for the Come Home Scholarship Program! Should you choose not to become a fundraiser, please instead consider making a donation. No matter how big or small, every donation makes a difference.
https://cfcrawford.networkforgood.com/
This community CAN turn the brain drain into a brain gain for Crawford County!