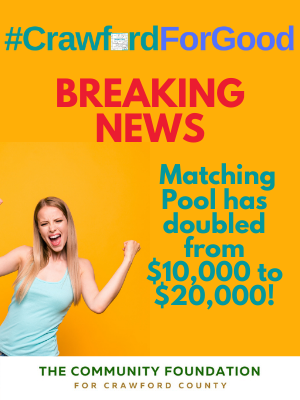 The Foundation is delighted and excited to announce that we will now be matching all donations made online during our 2-day online giving event, #CrawfordForGood, on a pro-rated basis from a pool of $20,000! This increase of $10,000 to the matching pool is made possible because of a generous grant from the Doug and Renee Leuthold Donor Advised Fund of the National Philanthropic Trust. The original pool was being offed by our Board of Trustees, the Carter Family Donor Advised Fund and the Hord Family Donor Advised Fund.
#CrawfordForGood, starts Tuesday, July 27th and continues through the end of the day on Wednesday, July 28th. Following another difficult and challenging year, we are facilitating this event to help our fellow nonprofits to raise money for their organizations' operational needs. The Foundation will not be keeping any of the money raised – it is all going back out directly into the hands of the nonprofits that raise it.
We are also having three contests with $225 up for grabs! Click here to watch our video to learn more!
All Crawford County Nonprofits are welcome to participate, but they MUST register with the Foundation. Registration is FREE, and the deadline for registration is TODAY, Friday, July 23rd at midnight. If you are not one of the 34 currently registered nonprofits, we urge you to get on the registered list now. Nonprofits can register at www.cfcrawford.org/crawfordforgood.
We look forward to partnering with you!
REGISTERED AND PARTICIPATING CRAWFORD COUNTY NONPROFITS (at the time of publishing):
American Red Cross - East Central Ohio (serves Crawford County)
Boy Scout Troop 304
Bucyrus Backpack Program, LLC
Bucyrus Beautification Fund of Projects, Inc. (Hanging Baskets)
Bucyrus Bicentennial Fund of Projects, Inc.
Bucyrus Legacy Fund of Projects, Inc.
Bucyrus Little Theatre
Bucyrus Outreach & Restoration Network (BORN)
Bucyrus United Methodist Church's Adopt-A-Family Christmas Project
Camp Michael
Crawford County Arts Council
Crawford County Community Concert Association
Crawford County Society for Aiding the Physically Disabled, Inc.
Crawford Partnership
Crawford Reads 20
Crawford Works
Crestline Athletic Boosters
Crestline Community Enhancement Fund of Projects, Inc.
Crestline Youth Sports of Projects, Inc.
Family and Community Services, Inc.
The Galion Historical Center (aka Galion Historical Society)
Governor's Imagination Library Crawford County Ohio Affiliate
Holy Trinity St. Francis Community Kitchen
Preserving Galion, Inc.
North Central State College Foundation-Crawford Success Center
Prevailing Word Ministry In Motion Food Pantry
Project Noelle
Rescued Rollers
St. John's UCC Feed the Hungry Soup Kitchen
St. Joseph Community Outreach Program
Together We Hurt Together We Heal
United Way of North Central Ohio (serves Crawford County)
Wildlife Haven
YMCA of Bucyrus-Tiffin (Bucyrus Branch)
To view a current up-to-date list of registered and participating nonprofits at any time, click here.